Full refund within 90 days without reason
Shipping >> Worldwide Express Shipping Available
Payments Via PayPal and CreditCard.
Our merchandise is authentic, with genuine patent, counterfeit reserved! Please look for our products!
To celebrate the 2nd anniversary of our establishment, we will hold a promotional event from December 10th to December 25th, 2021. The original price of US$399.99 is now only US$99.99. The event is limited to 300 pieces. Now there are only 89 stocks left. Inventory is very tight. If you like this helmet, please click add to shopping cart to buy.
We strictly abide by all standards, regulations and laws promulgated by various countries, such as: DOT,ECE,GS, JIS,SHARP,and AS/NZ1698, etc. We will only sell our products if they are qualified according to the standards. Please rest assured to buy.
Finding your size:Measure the circumference of your head above the eyebrows to determine your size.Choose a helmet of the same size.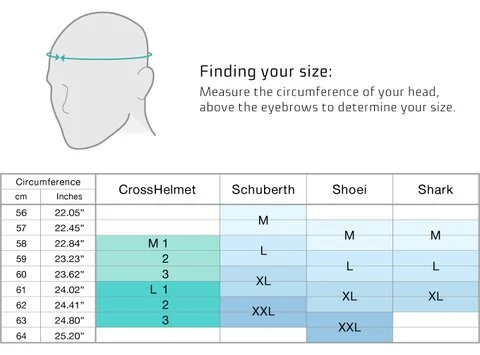 Motorcycles have evolved faster thanhelmets have. The Helmet brings stateof the art technology to a safety staplethat has remained stagnant for years. Our first objective is to increase rider safety. We achieve that by increasing visibility, reducing noise distractions, and allowing connectivity. Our product combines integrated head-up display with 360° range of vision, sound management, and Bluetooth features. to say it simply, It is the smartest motorcycle helmet ever made.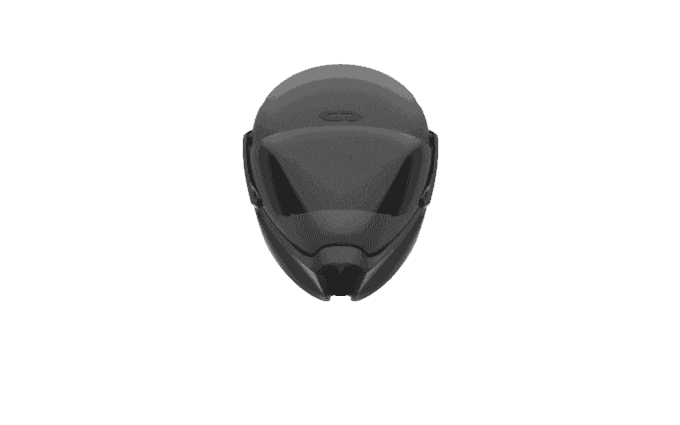 VISIBILITY
Blindspots are completely eliminated with the groundbreaking HUD technology. A built-in wide-angle
rear-view camera
projects onto the
head-up display
.
The HUD display is made to feel just like a car rear-view mirror, so the rider can effortlessly see a behind him, in a fraction of a second and with minimum head movements. Your riding experience will be safer and smoother than ever before.
We believe rear vision is an essential part of increasing rider safety. Allows more road-vision and eliminates blind spots, allowing for optimum, 360° views.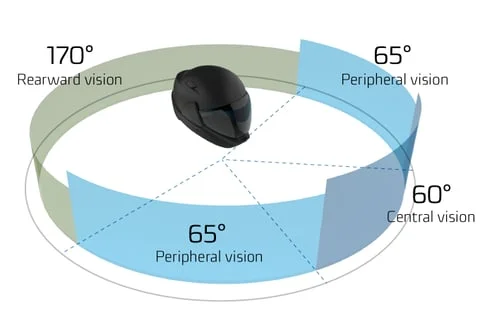 CONNECTIVITY
The helmet can be seamlessly connected to your smartphone using Bluetooth. Use voice commands to enter Siri or OK Google. Make calls, play music and set navigation destinations without touching your smartphone or stopping riding.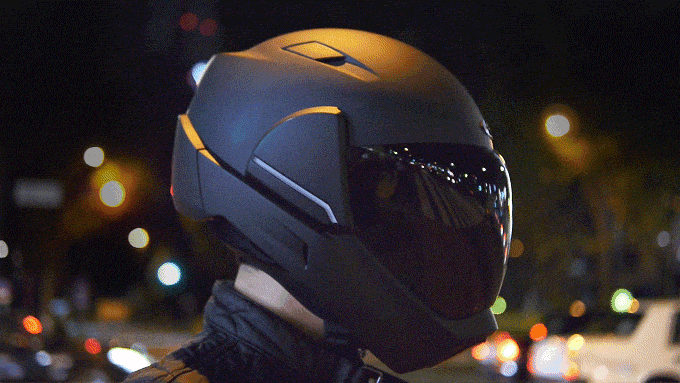 Navigation
Step by step guidance
Open maps integration
No need to switch between apps
Download maps for offline use
Discrete GPS chip in the accurate location tracking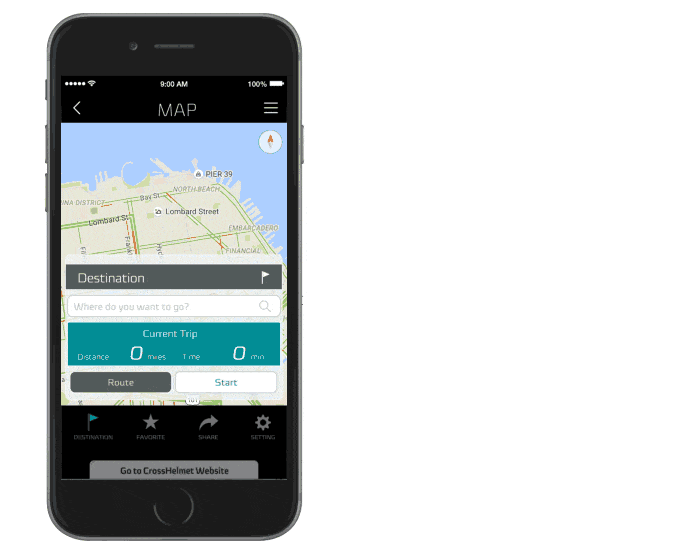 Carry out essential smartphone and HUD functions through the helmet's discreet touch panel for easy, safe, and intuitive usage. We've included a capacitive sticker add-on so you can use your favorite pair of gloves.
Carry out essential smartphone and HUD functions through the helmet's discreet touch panel for safe and intuitive usage: volume, skip track, pause music, etc.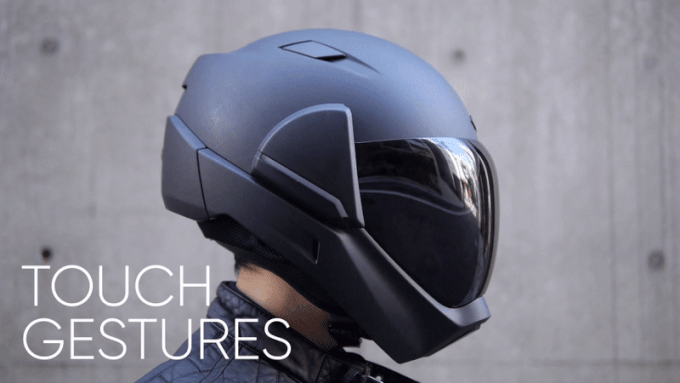 SERENITY
As a revolutionary function in the motorcycle industry, it enhances and reduces environmental sounds according to the rider's needs. The rider can safely suppress road, engine and wind noise to help reduce rider fatigue and prevent hearing damage.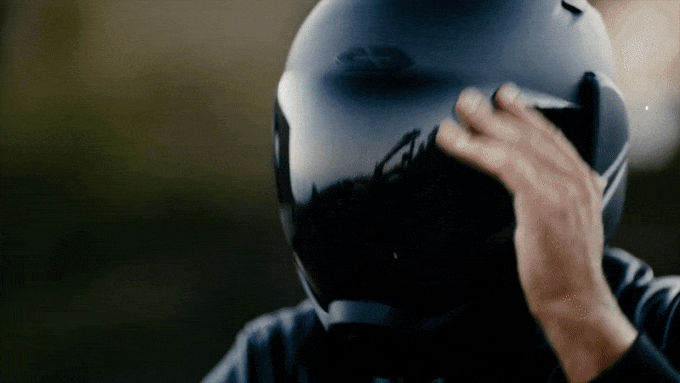 The unique wide-angle visor is an innovation all of its own. Compared to traditional motorcycle helmets has a 30% larger field of view. The inside of the helmet is more spacious than traditional helmets, built for long lasting comfort and greater movement.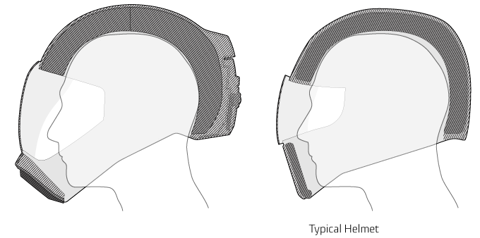 SAFETY
Safety LEDs mounted on both sides of the helmet increase visibility while riding at night. Using state-of-the-art battery technology, our Lithium-Ceramic Battery (LCB) is completely risk free. It is 100% resistant to leakage, smoke, fire, or explosions after physical impact, puncture or thermal damage.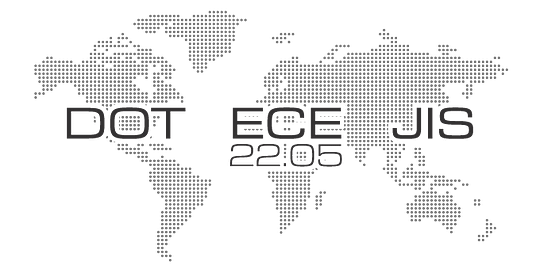 We work with manufacturing partners who have the experience, resources, and advanced facilities to ensure that the helmet meets the safety standards required by each country we ship to. In order to improve the structural strength of the helmet, our team also added variable thickness and advanced architecture to our shell. These technologies are currently used in the racing industry.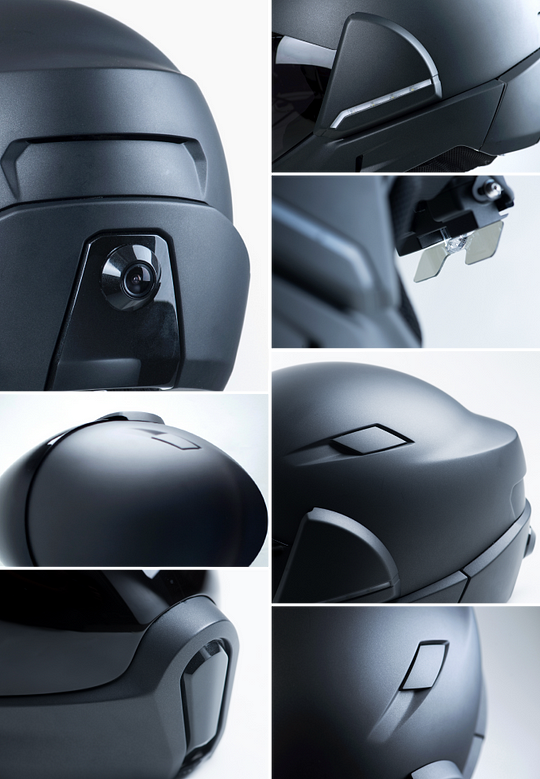 AFTER-SALE SERVICE: