Save your time, energy and money in repairing damaged fiberglass screens using this screen repair tape!
This Anti-Insect Screen Repairer is a high-quality fiberglass mesh tape that can effectively fix every hole and scratches to your aging window or door screen. It flawlessly covers even the smallest damage to the largest one in a sec! Providing you an easy DIY solution that guarantees fast and good-looking results. Simply peel, cut, and stick it to the damage area for a clear, permanent repair!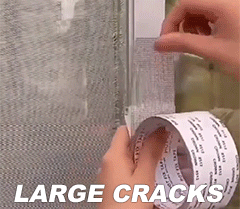 This long-lasting adhesive tape matches and flexibly conforms well on warped, uneven mesh screens. You can use it on both indoors and outdoors without the tape peeling off or tearing. Perfect for covering tent mesh, pool screens, RV screens, camping tarps, terrace door nets and such. Preventing bugs and creepy crawlies from entering without blocking the airflow!
Patch up all your rip and tear with this long-lasting screen repair tape! 
FEATURES:
Quick Repair Tape
An excellent DIY solution that effectively fixes every rip and tear on your window and door screens in a sec! Simply peel, cut your desired length, stick it to the damage area and done. Allowing you to patch small to largest size damage screens easily and reject insects and mosquitoes from invading. 
Ultra-Strong Adhesive
A durable fiberglass tape, designed with a long-lasting adhesive performance that will stay on the surface of your window or door screen for a long time. It won't peel off or get damaged even in the midst of rough weather or from your hyper pets!
Seamless Look
A great mesh texture that perfectly matched with every fiberglass screen door and windows. Making the tape unnoticeable even when repairing a large screen damage. Allowing you to look through your door and window screen without blocking the view and the fresh air from flowing.
Wide Application
Ideal for both indoor and outdoor use! Suitable for covering tent mesh, pool screens, RV screens, camping tarps, terrace door nets and more possibilities. A handy tool, perfect for mending rips and broken mesh screens anytime, anywhere!
Premium Quality
Made of high-quality fiberglass and true mesh construction with high and low temperature resistance. Providing you an upgraded strength and structural integrity. A self-adhesive repair tape that conforms well on warped or uneven window mesh. 
How to Use:
Wipe clean the screen of the damaged area that you want to repair. 

Peel of the tape and cut out an appropriate size to cover up the tear or hole. 
Stick it into the damage area and now you have a clear, permanent screen repair!
SPECIFICATIONS:
Material: Fiberglass
Size: 5 x 200 cm
PACKAGE INCLUDES:
1 x Anti-Insect Screen Repairer